Sky Sports unveils Football's Toughest Opponent, the climate crisis | News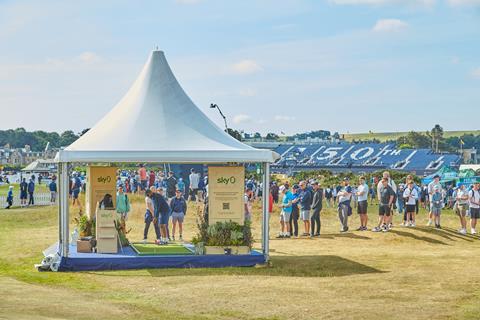 Sky Sports will premiere Football's Toughest Opponent, a documentary on football's relationship with the climate crisis, on October 9.
Airing at 7.30pm and 9pm on Sky Sports Premier League and then available on demand, the film explores the impact of climate change on football, how football contributes to climate change and what governing bodies, clubs, managers and players are doing to tackle the climate emergency. Contributors include Ben Mee, Chris Smalling, Jen Beattie, Petr Cech, Ralf Hassenhuttl, Serge Gnabry, Sofie Junge Pedersen and UEFA's Michele Uva.
Ahead of the documentary being aired, Sky has also revealed the results of its climate crisis campaign at sporting events this summer.
The broadcaster, as part of its Sky Zero campaign, ran on-site activations at The Hundred, Formula 1 British Grand Prix, The 150th Open, and Super League's Magic Weekend asking fans to pledge to take climate-positive actions – with almost 10,000 taking up the opportunity.
This was part of Sky's efforts to be net zero carbon by 2030, and it also revealed that 1.74 million climate-positive actions were taken by sports fans at these major events, as well as the Great Britain Sail Grand Prix. These actions included eating less meat (69,031 actions), using greener forms of transport (422,375 actions), and recycling more waste plus using refillable water bottles (1,249,296 actions).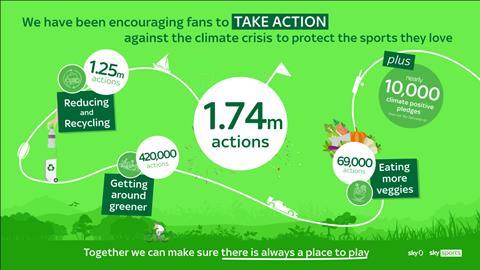 According to the pay-TV provider, 65% of fans attending The Open brought or bought their own reusable bottle, refilling at the free on-site water stations across The Old Course in St Andrews. 100% of fans at St James' Park for Magic Weekend used biodegradable and fully compostable paper cups instead of single-use plastic cups, and at the Formula 1 British Grand Prix, it is estimated that bottles were refilled over 600,000 times at Silverstone.
Sky was advised by Rare experts in partnership with Count Us In to verify and calculate the total number of actions, with these actions chosen for their emissions impact, accessibility and influence on wider systems change.
Jonathan Licht, managing director of Sky Sports, said: "Climate change is something that is threatening sport and wider society, and we are extremely passionate about trying to encourage sports fans to act and make changes in their own lives. To have sports fans taking more than 1.7m tangible actions over the summer of elite sport is great to see and demonstrates what a difference we can continue to make when all corners of the sports industry come together to take purposeful action."