Tropical Storm Ian forms in the Caribbean, projected to make landfall in Florida as a major Category 3 hurricane
ORLANDO, Fla. – Tropical Storm Ian formed Friday morning in the Caribbean Sea, and much of the Florida Peninsula is already included in the cone of uncertainty for the system that is likely to become a major hurricane in the days ahead.
Ian joins three other systems currently roaming the Atlantic Basin, including Post-Tropical Cyclone Fionawhich will pummel Atlantic Canada this weekend, Tropical Storm Gaston near the Azores, and Tropical Storm Hermine over the far eastern Atlantic.
Late Friday evening, the system was located east-southeast of Kingston Jamaica packing maximum sustained winds of 40 mph. A westward or west-northwestward motion is expected through early Sunday. A turn towards the northwest is forecast for late Sunday, followed by a north-northwestward turn by late Monday.
"On the forecast track, the center of Ian is forecast to move across the central Caribbean Sea through Saturday, pass southwest of Jamaica on Sunday, and pass near or over the Cayman Islands Sunday night and early Monday," the NHC said. "Ian will then approach western Cuba on Monday."
What are the expected impacts of Tropical Storm Ian in the Caribbean?
The main concern from Tropical Depression Nine is heavy rainfall for Jamaica, the Cayman Islands, western and central Cuba, southern Haiti, and the southern Dominican Republic beginning as soon as this weekend, according to the FOX Forecast Center.
The highest rainfall amounts are predicted in western and central Cuba, where 6 to 10 inches are expected with isolated amounts up to 14 inches. Jamaica and the Cayman Islands could see 4 to 8 inches of rain, with localized amounts up to 12 inches.
In southern Haiti and the southern Dominican Republic, between 2 and 4 inches of rain is forecast, although locally higher totals as high as 6 inches are possible.
Depending on the exact track and intensity of Tropical Depression Nine, there could also be tropical-storm-force (39-plus mph) or hurricane-force (74-plus mph) winds in these areas.
Tropical Storm Ian is predicted to be steered in the general direction of the eastern Gulf of Mexico and could be near the Florida Peninsula by the middle of next week.
An overwhelming majority of computer forecast models suggest the storm will likely be a major hurricane as it tracks towards the mainland US However, forecasts for newly developed tropical cyclones are challenging, so don't be surprised if the forecast for Ian undergoes several changes – some or which could be significant – over the coming days.
The storm-track guidance from the various computer forecast models currently ranges from the eastern Gulf of Mexico to near or off Florida's Atlantic coast, so everyone in this general zone should begin their preparations now in the event of a potential major-hurricane strike next week .
So the bottom line is that it's still too early to know exactly where this system is heading, but know that there is a growing threat of a major hurricane impacting the southeastern US around the middle of next week.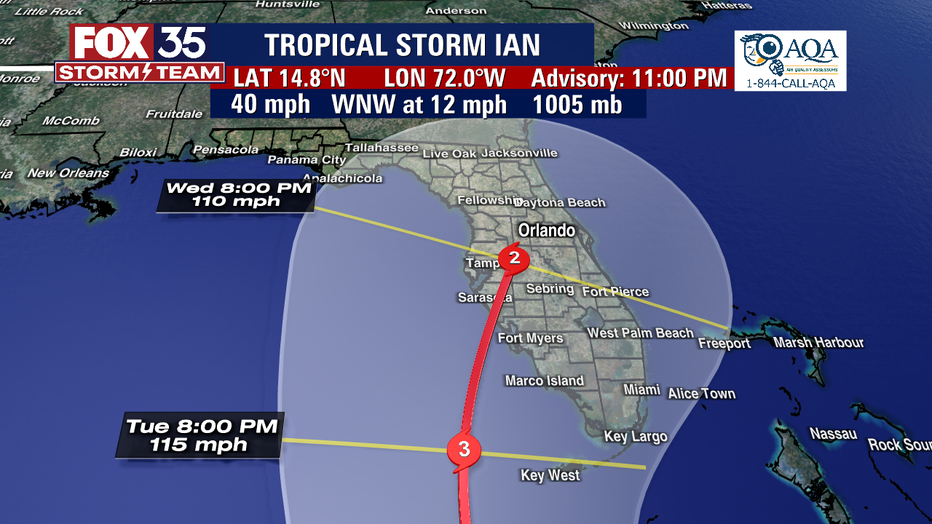 If it stays on its present path, the system is expected to drop five to 15 inches of rain over portions of Central Florida. Torrential rain and flooding are possible.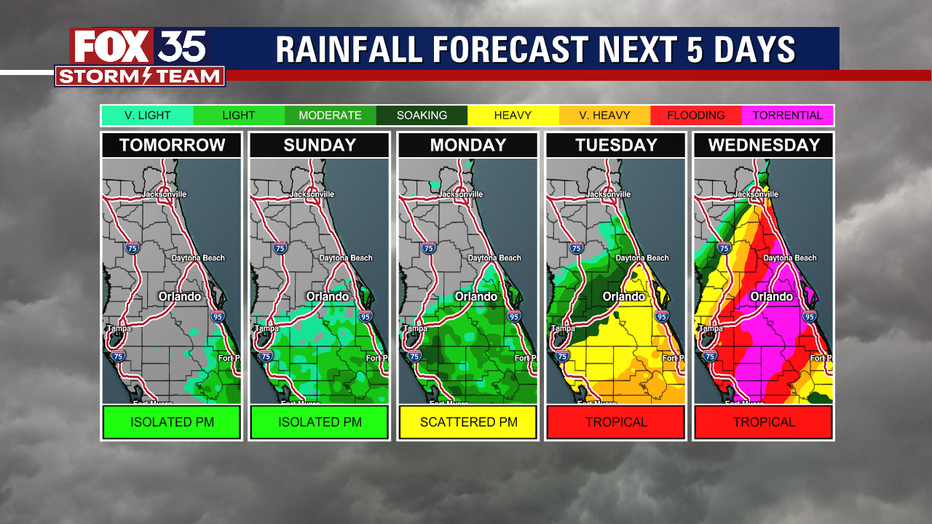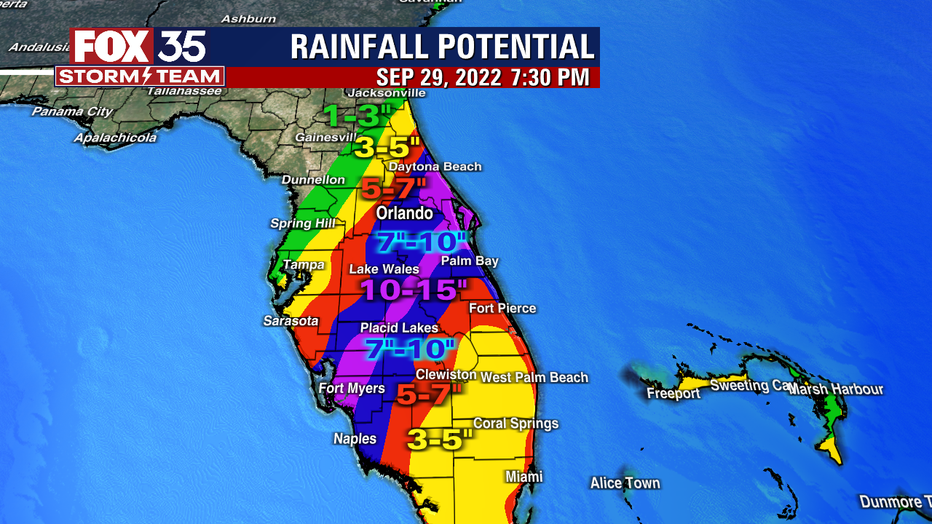 Current models show the system strengthening into a Category 1 hurricane by early Monday. By Wednesday, the models show it becoming a Category 2 hurricane over Cuba before moving towards Florida on Wednesday morning as a major Category 3 hurricane.
Much of the FOX 35/FOX 51 viewing areas could experience potential wind gusts from 40 mph to 73 mph beginning on Wednesday afternoon and continuing through Thursday morning.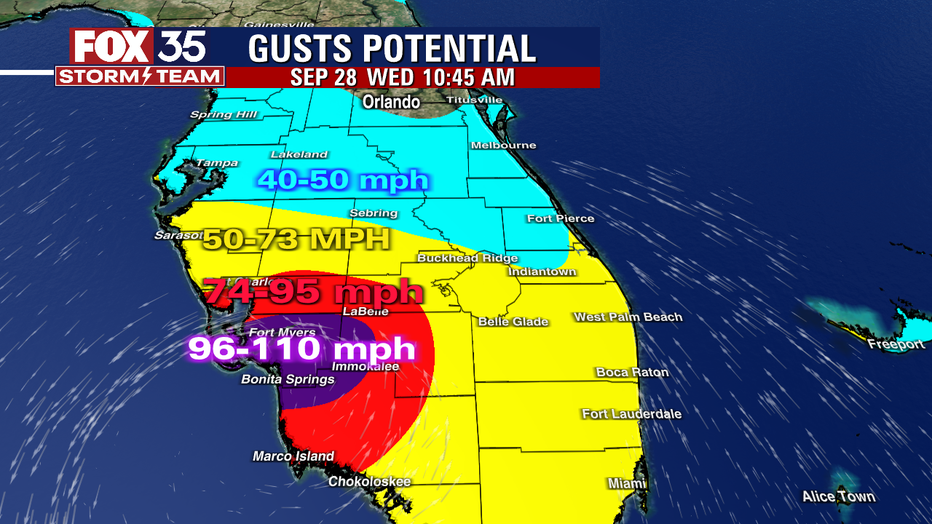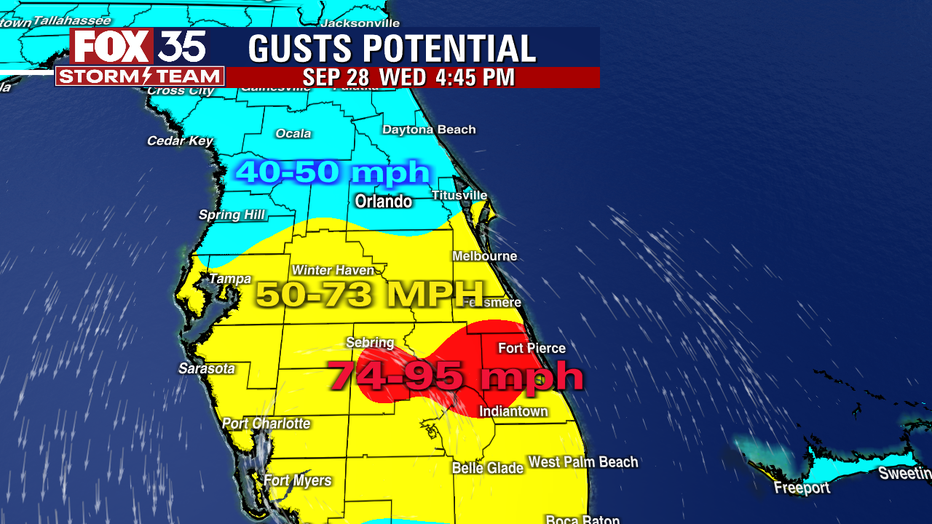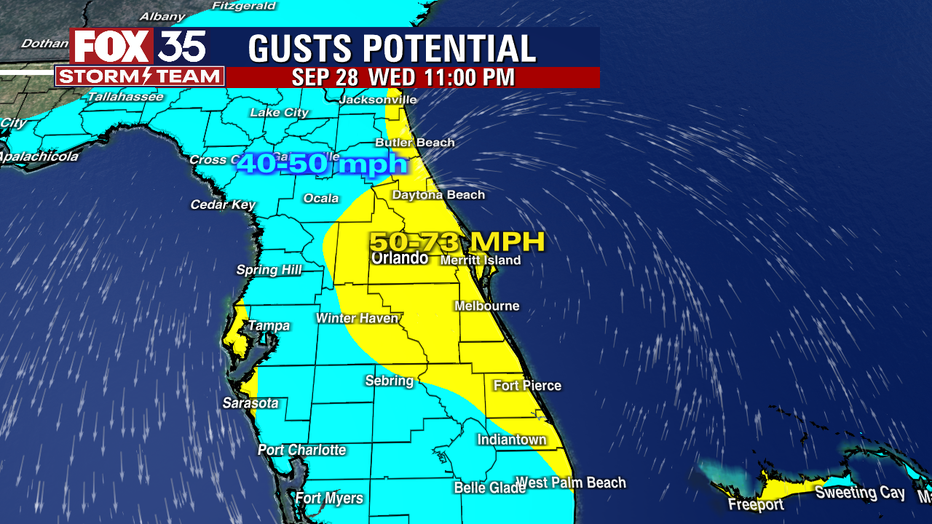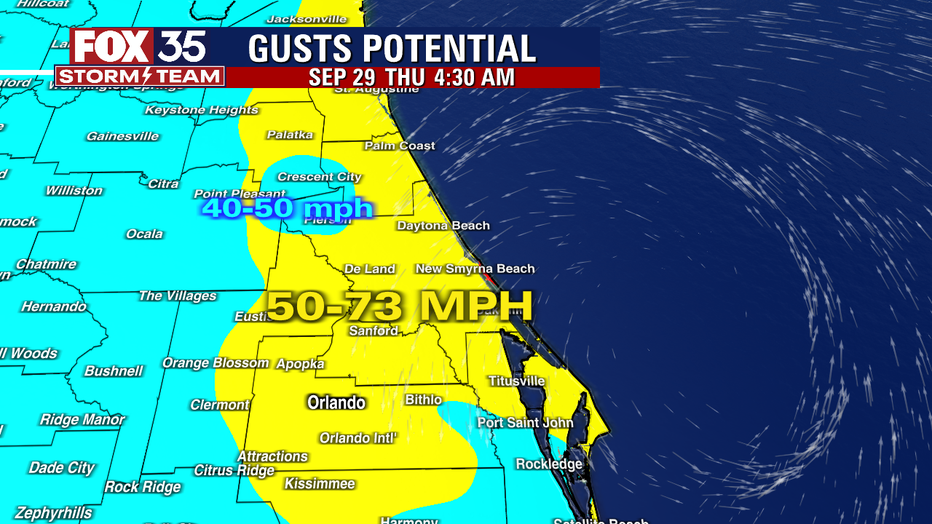 RELATED: Weather deteriorates in Canada as powerful Hurricane Fiona approaches
The FOX 35 Storm Team will be following this every step of the way to keep you updated.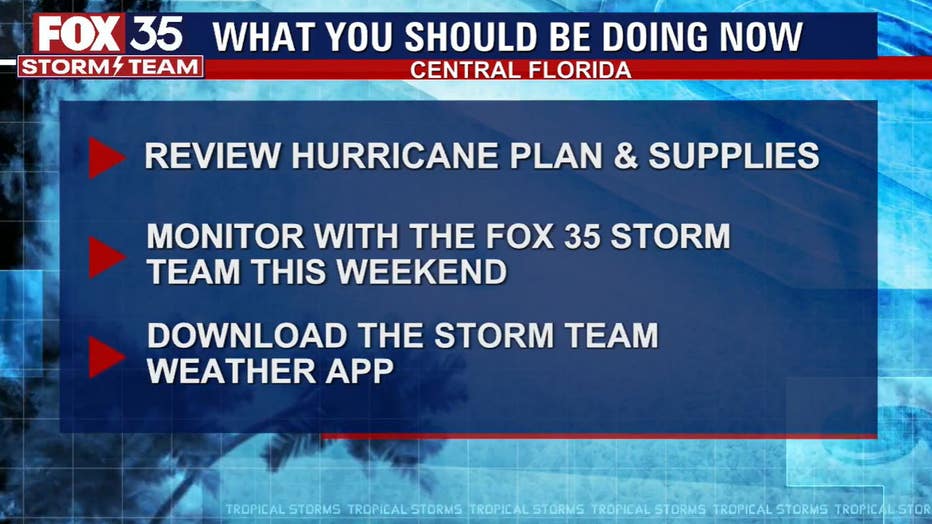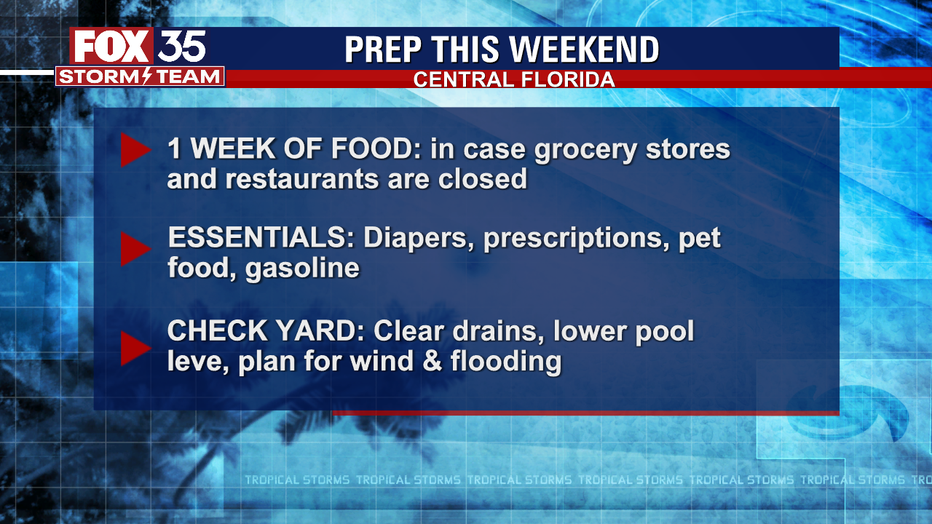 Meanwhile, the FOX 35 Storm Team is also tracking several other systems in the Atlantic.
POST-TROPICAL CYCLONE FIONA
Late Friday, Fiona was located east of Halifax Nova Scotia with maximum sustained winds of 105 mph and is expected to bring hurricane conditions to Canada overnight.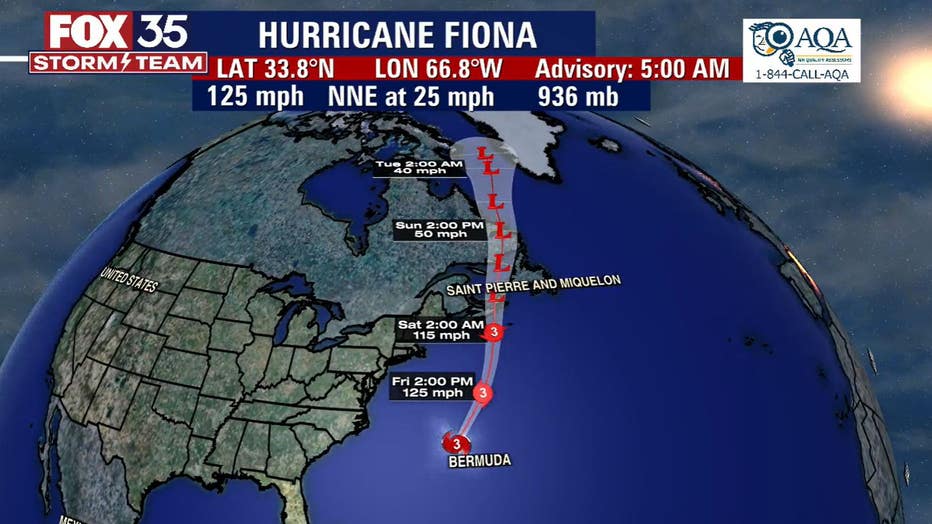 "On the forecast track, the center of Fiona will move across eastern Nova Scotia overnight and into the Gulf of St. Lawrence on Saturday morning, and then move across Labrador and over the Labrador Sea on Sunday," the NHC said.
| FOX 35 Orlando Hurricane Center |
TROPICAL STORM GASTON
Gaston is moving towards the Central Azores. Tropical Storm conditions and heavy rainfall are expected over the western and central Azores tonight and Saturday.
Gaston is expected to turn southeastward on Friday with tropical storm conditions affecting the westernmost Azores Islands. The storm is packing maximum sustained winds of 60 mph.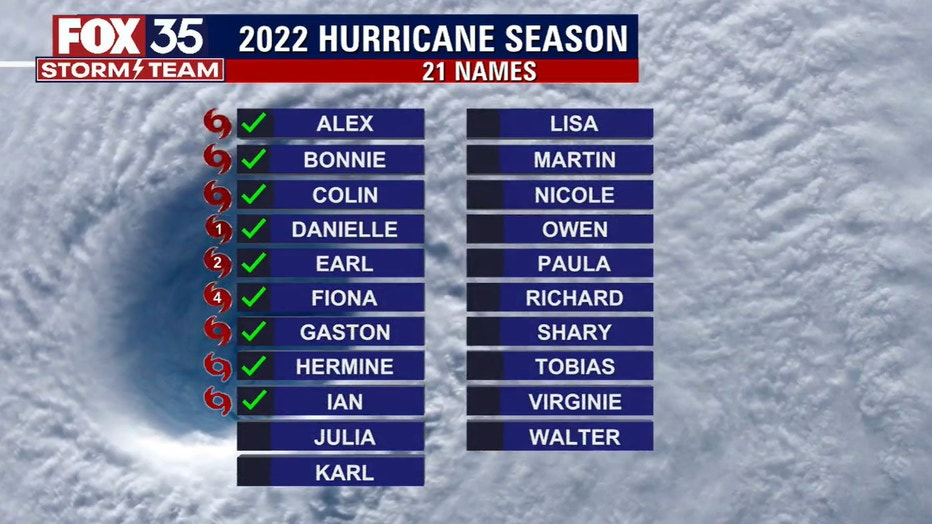 Gradual weakening is expected over the next few days.
TROPICAL STORM HERMIN
Tropical Storm Hermine formed over the far eastern Atlantic. As of late Friday afternoon, it is located east-northeast of the Cabo Verde Islands with maximum sustained winds of 40 mph.
"Some strengthening is possible through Saturday, with weakening expected on Sunday, and Hermine could become a remnant low on Monday," the NHC said.
OTHER SYSTEM
Another area of ​​low pressure is located several hundred miles west-southwest of the Cabo Verde Islands. Some slow development of this system remains possible over the next several days while it drifts northwestward or northward over the central tropical Atlantic. As of Friday, the chances of development over the next five days are at 30%.
.