Under the microscope: women fight bias in male-dominated majors | Campus News
Women should not be civil engineering majors. At least, that's what Jillian Fezer was told by a male classmate the fall semester of her junior year of college. With comebacks and angered responses from her classmates coming to her defense, Fezer forced a laugh while internally trying to process the insult. Although she refused to let the comment intimidate her, she remembers feelings of confusion combined with unspoken gratitude for the friends that stood up for her.
A faint interest in the major led Fezer to select civil engineering on her University of Georgia application, leading from captivating freshman seminars to a steadfast four-year commitment. Because of the decision, Fezer is now part of the group of women that must navigate the convoluted and often inhospitable ecosystem of a male-dominated major.
Although women have outnumbered men on UGA's campus since 1980, according to UGA Factbook records, certain majors do not statistically or even slightly mirror the current gender balance of students. The main fields with discrepancies include engineering, computer science, mathematics and statistics, physical sciences and science technologies. In short, it's the cluster of majors that fall under STEM, an acronym for science, technology, engineering and math.
The answer to this phenomenon is not found in the stereotypes that men are better at math or that women choose lesser paying jobs, but in the concrete earning potential, according to the American Association of University Women. Traditionally male-dominated majors lead to the highest salaries after graduation, explaining why generational gatekeeping has left women underrepresented in these job fields.
For example, although women earned around 20% of all engineering degrees in 2013-2014, they only accounted for 13% of the engineering workforce.
In 2019, according to data from the National Center for Education Statistics, women accounted for 57.4% of the total population of students enrolled in college. Although majors' gender balances tend to fluctuate, the asymmetrical enrollment ratio in STEM majors is reflective of a deeper systemic issue.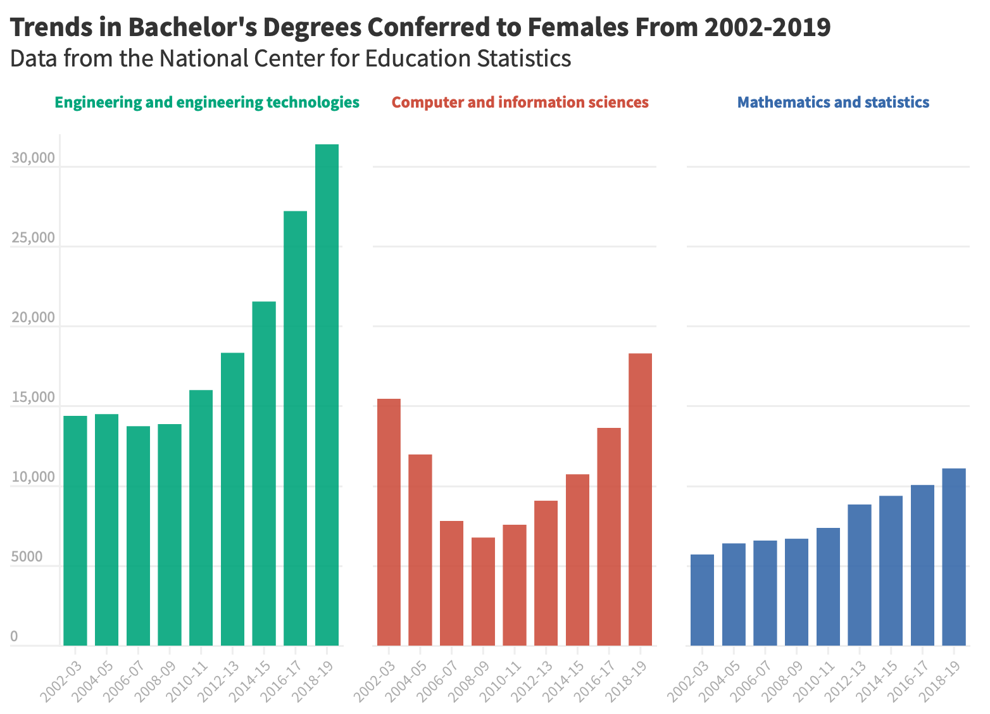 Overcoming barriers
As women weigh options for future career choices, there are several perceived and real barriers that discourage women from careers in STEM. With only 28% of women in tech reporting that gender equality in the workplace has improved, according to the TrustRadius 2021 Women in Tech report, the evolution of women in the workplace is telling an all-too-familiar story of stagnation and obstinacy.
An article published by Adeva hypothesizes that the gender gap is exacerbated by a "lack of mentors, lack of female role models in the same field, gender bias and derogatory behavior in the workplace, unequal growth opportunities with male coworkers, [and] the lesser wage for the same position. "
Besides these barriers, women also face mental challenges when entering male-dominated spaces. Sometimes, the sheer prospect of entering into a room full of men may be a deterrent.
"I think because it's typically known as a male-dominated major, it can be a little intimidating," said Fezer. "It kind of can scare women away."
Sathvika Narasimhan, a junior computer science major on the pre-medical track, is the president of Girls Who Code at UGA.Although she has gained confidence through her involvement with Girls Who Code, Narasimhan notes a persistent and widespread feeling among her female peers: "I might not be good enough."
Outside of feeling this imposter syndrome, women in the engineering field must face the challenge to both outperform male colleagues to earn a seat at the table, while also blending into a male-dominated atmosphere, Lynkova said.Although more women are entering these workplaces, the boy's club office culture has evolved very little in the past decades. According to the TrustRadius report, "72% of women have worked at a company where bro culture is pervasive."
A study in 2011 surveyed women that left or never entered the engineering fields and their reasons for doing so. The top grievances include unreasonably long work hours, limited opportunity for advancement, conflict with family care and an undesirable work culture. While some women simply chose to enter into other industries, many who were dissatisfied with the environment were forced to make the decision to leave or manage the pressure.
Competing in the classroom
The STEM classroom, where male students often gain confidence and reassurance, can be a difficult setting for women to find their voice. While male classmates may not be outwardly domineering or exclusive, the mere volume of them in a class setting may cause insecurity among college-aged women.
"It's intimidating to be the only one, the only person that looks like you in a room," said Narasimhan.
Michael Wooten, the director of communications for the UGA College of Engineering, said in an email that the current enrollment rate for the college is approximately 2,400 undergraduate students. Women account for 29% of the college's students.Nationally, women accounted for 24% of students enrolled in engineering programs in 2019, according to the Society of Women Engineers.
Narasimhan said one of the ways that the imbalanced ratio of men to women manifests is in group projects.
"I feel like women have to compensate more to show that they know something, versus a guy who is assumed to understand what's going on," she said.
Another prospect that disheartens women in STEM fields is the lack of female role models. Narasimhan was fortunate enough to have a mentor in her own home. Her mother, a software engineer, was instrumental to Narasimhan's interest in computer science, leading to her first encounter with the subject in ninth grade.
"I don't know if I ever would have even considered computer science if it wasn't for her, and I'm so grateful for that," Narasimhan said.
Narasimhan knows the positive effects that role models can have, which inspires her involvement in Girls Who Code. The UGA chapter organizes meetings at local Athens schools to teach the basics of coding to girls and makes them aware of career opportunities in STEM fields.
Similarly, as President of Women in Technology, Priyanka Patil, a senior management information systems major, is motivated by forming a community that empowers women to succeed in the tech industry. In her position, Patil is tasked with assembling meetings that focus on women's leadership development and practical skills in the workforce.
Their 2022 executive calendar has already been jam-packed with events, including a leadership workshop with a Miss USA contender and company meetings with Google, Deloitte, Goldman Sachs and Accenture among others.
"I want to tell women to fight for their seat at the table," said Patil.
Despite numerous barriers and women being edged out of these fields for years, women's representation has wavered in STEM majors and currently reflects overall increases in the past two decades according to the NCES.
'Women supporting women'
Women banding together inside and outside of classroom settings has helped drive changes in traditionally male-dominated majors. With organizations like Girls Who Code and Women in Tech becoming more mainstream, there are better support systems and resources available to improve the matriculation and retention of women in STEM.
"I'm glad that we're able to form this sisterhood through clubs like Girls Who Code and kind of like this supportive community where it's like women supporting women and it's like we're all in this together," said Narasimhan.
As she looks towards graduation, Fezer acknowledges that her experience in engineering, while not always perfect, instilled personal resilience and motivated her to support other women along the way.
"Interacting with the other women in my major and becoming friends with them and having a support system really helps," said Fezer. "We study together and like we want each other to be successful."
.